Your Safety – Our Priority
Our private car services in Greenwich include the drivers wearing masks at all times and strict sanitization protocols.
before and after your reservation so that you can ride safely and royally.
WELCOME TO PERALTA'S ELITE LIMOUSINE L.L.C.
Are you looking for a private car service that offers both comfort and competitive rates at once? You're at the right place.
Our private car services cover Greenwich and the entire tri-state area of New York, Connecticut, and New Jersey. So, if you require elite transportation services for an unforgettable experience of arriving at the airport in style, you can make a reservation any time of the day.
We offer first-timers an exclusive 20% discount that establishes their trust in us being a reliable car service in Greenwich. At the same time, our 50% discount offer on every 6th ride brings us to the spotlight of being an unmatched executive transportation service.
Take an Exclusive Look at Our Fleet
At Peralta's Elite Limousine, we have 180 top-of-the-line-limousine models that are not only luxurious to travel but with premium safety standards. The highest ratings from the U.S. Department of Transportation and U.S. Department of Defense are certainly a badge of honor that helps us on the way to offering superior limousine services.
OUR SERVICES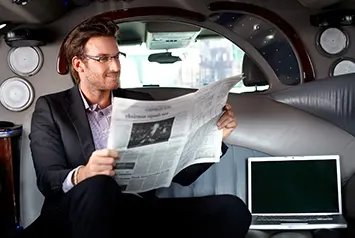 Corporate Transportation
In a rush to arrive at your business meeting spot? Or are you looking for a reliable car service in Greenwich to transport your clients? Book your reservation today, and have our friendly chauffeur pick you up.
Night Out
Night outs are fun, especially if it's a concert with your favorite band playing. But are you looking for an elite transportation service in CT without having to worry about parking your car? Why not call us today and make the most of your fun night out?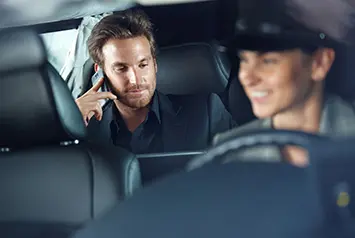 Non-Emergency Medical Transportation
Do you have an appointment with the doctor and need to visit the hospital? Arriving on time can be troublesome if you have to deal with heavy traffic. That's where our expert limousine services come in. Our drivers know their way amidst the busy roads and can transport you to the hospital well within time.
Funeral Limo Service
When someone passes away, there is a lot of things going on in your head. Transportation should not be one of your worries. A chauffeured ride will give you one less thing to think about.
ABOUT US
Established in 2010, Peralta's Elite Limousine was formed with a specific vision in mind: to become the best executive transportation service in Greenwich.
We have achieved this feat throughout the years by providing our loyal clients with safe and reliable rides all around the town. Our car rental services are not just limited to transporting you safely but ensuring you travel comfortably while in the limo. That's why whether you're traveling to the airport or merely five blocks up the road, we provide you with complimentary drinks that help you relax en route.
And that's not all. Our drivers undergo an intense defense driving course and are only eligible to drive after they've passed the background checks and drug tests. This helps us ensure that you're in safer hands while traveling.

Want to Know the Latest Updates?
Subscribe to Our Newsletter
Peralta's Elite Limousine L.L.C. provides 24/7 executive transportation to the airports and hotels covering Connecticut, New Jersey, and New York.